Category:
News
Date:

August 1, 2023
End of Summer Kitchen DIY Projects
As the end of summer approaches, it's the perfect time to give your kitchen fixtures a fresh update. You don't need to break the bank to transform your kitchen into a stylish and functional space. With a few simple and affordable DIY plumbing upgrades, you can create a unique and modern look without the hassle of a full remodel. In this blog post, we'll explore some budget-friendly kitchen upgrades that will make a big impact on your space.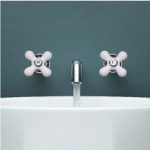 Replacing your faucet handles is one of the easiest ways to update your kitchen. This simple swap can instantly give your sink a fresh new look. The Cross-Arm Faucet Handles include a cross-style design with a white porcelain finish and a chrome metal trim to compliment your kitchen's aesthetic perfectly. The Cross-Arm Handles are available at the Home Depot, Lowe's, and Amazon.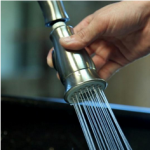 Enhance the functionality and overall efficiency of your kitchen faucet's spray if it isn't performing as well as it used to! A new high-quality spray head can improve water flow and make everyday tasks, such as washing dishes or filling pots, more efficient. The Smart Spray Pull-down Faucet Spray Head is a universal replacement spray head that can easily be installed on your existing kitchen faucet. With its elegant ergonomic design and two water-saving spray options (wide and stream), it elevates both the functionality and aesthetic appeal of your sink area. The Smart Spray is available at the Home Depot, Lowe's, and Amazon.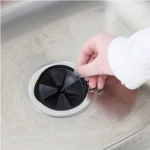 Make your kitchen cleanup process a breeze by adding some practical accessories to your garbage disposal. Danco offers a range of garbage disposal accessories that can enhance both the functionality and longevity of your disposal unit. Consider investing in a new Mounting Gasket Kit or Disposal Splash Guard Baffle, these tools are designed to muffle disposal noise, making for a quieter and more peaceful kitchen. The Mounting Gasket Kit and Disposal Splash Guard Baffle can be purchased at the Home Depot!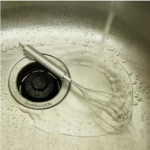 The Disposal Genie I is constructed from tough and durable plastic and serves as a strainer to protect your garbage disposal. With its dishwasher-safe feature, cleaning becomes a breeze. The Disposal Genie I is available in many stylish colors, adding a touch of elegance to your kitchen while providing a practical solution to keep your garbage disposal running smoothly. Find the Disposal Genie I Garbage Disposal Strainer now at the Home Depot, Wal-Mart, Lowe's, and Amazon.
As summer comes to an end, take the opportunity to give your kitchen a fresh and budget friendly upgrade. By replacing faucet handles and spray head, and adding garbage disposal accessories, you can transform the look and functionality of your kitchen without the need for a costly renovation and ultimately create a unique and modern kitchen space that reflects your style and makes everyday tasks more efficient. Embrace these end-of-summer Danco Plumbing repair parts upgrades and enjoy a kitchen that feels new and inviting as you enter the next season.