Category:
News
Date:

October 1, 2023
Transform your Faucet Performance
The holiday is creeping upon us, and there's nothing quite like gathering with friends and family over a hearty meal. As you prepare your home for these cherished moments, don't overlook one of the most vital yet often overlooked components of your kitchen – the faucet.
Upgrading your faucet is a simple yet highly impactful way to breathe new life into your kitchen. It not only enhances functionality but also adds a touch of elegance. So, here are some simple plumbing solutions to help you transform your kitchen just in time for the New Year.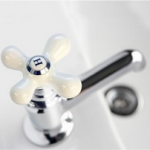 Personalize Your Faucet Handles
Imagine the delight of turning on a faucet with Danco Faucet Cross-Arm Handles. These handles not only offer a unique style with their white porcelain finish and chrome metal trim but also provide convenient hot, cold, and arrow buttons for a personalized experience. These faucet handles come in White, Brushed Nickel, and Chrome at the Home Depot and Amazon.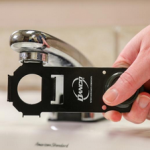 Save Water and Simplify Faucet Maintenance 
Experience a significant reduction in water consumption without sacrificing water pressure with the Danco Faucet Aerator, featuring Cyclone Technology. Danco 1.5 GPM Dual Thread Aerator is now at Lowe's,  Wal-Mart, and Amazon.
Maintaining your aerator becomes a breeze with the Aerator Removal Tool Key. This innovative DIY plumbing tool easily removes faucet aerators without the need for a wrench preventing damage during installation. The Aerator Removal Key Tool is available at the Home Depot, Lowe's, and Amazon.
Say Goodbye to Leaks 
Repair bothersome leaks by replacing worn-out washers and gaskets. The Danco Washer Assortment will repair your leaky faucet in no time. This assortment comes with the most popular and widely used washers and includes 42 pieces in various metric and inch standard sizes. Plus, it's a great addition to your home or tool kit as it is an inexpensive plumbing repair alternative that saves you on expensive faucet repairs. The Home Washer Assortment Kit is at the Home Depot, Lowe's, and Amazon.
When repairing a faucet leak we recommend using a Silicone Faucet Grease. Ideal for lubricating faucet stems, valves and cartridges, the silicone faucet great is a long-lasting water-resistant solution. You can pick-up the Silicone Faucet Grease now at the Home Depot, Lowe's, and Amazon.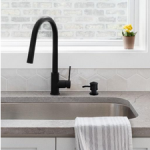 Add Elegance and Convenience 
Transform your kitchen's aesthetics and functionality with a sleek Soap Dispenser in elegant matte black. Say goodbye to cluttered countertops and frequent soap bottle refills. Danco Soap Dispenser is now on at the Home Depot and Amazon.
Conceal unsightly sinkholes effortlessly with the Kitchen Sink Hole Cover. Ensure a clean and polished look when you no longer need accessories like soap dispensers or side sprayers. Pick up now at the Home Depot, Lowe's, or Amazon.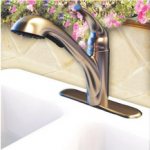 Enhance Functionality 
Enhance your sink faucet's functionality with the Center Pullout Spray Head now at the Home Depot, Lowe's, and Amazon, it's the perfect for washing dishes and vegetables or returning your sink to its gleaming best.
For added convenience, consider the Danco Easy Spray Quick Connect Faucet Spray. With a 3-ft hose and quick-connect aerator adapter, it simplifies tasks like bathing pets or washing toddlers, making your daily routines a breeze. The Easy Spray can be found at the Home Depot, Lowe's and Amazon.
These simple fixes not only address common faucet-related issues, but also add a touch of sophistication to your kitchen. Embrace the holiday spirit with a faucet upgrade, and you'll enjoy a refreshed and efficient kitchen just in time for your holiday gatherings.