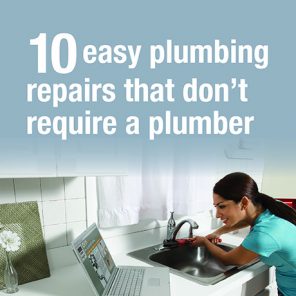 Category:
News
Date:

January 15, 2020
10 Easy Plumbing Repairs that Don't Require a Plumber
With large plumbing repairs costing anywhere from $500 to $800 and smaller jobs costing $125 to $350, it's no wonder many homeowners are choosing the DIY route. The good news? You can do this, too—even if you don't have much experience. 
But first…
It's important to know where to get the replacement parts you need. Don't worry—it's easier than ever to order replacement parts online these days. Whether you need a new bathroom faucet handle, a replacement kitchen sink sprayer, or a new toilet handle, the key is to buy high-quality replacement parts from trusted brands like Danco. They are designed to make it easy to do basic plumbing fixes without having to hire a pro. 
You also need some tools. Fortunately, simple plumbing tasks don't require anything specialized. In fact, you probably have everything you need in your current toolbox:
Adjustable wrench

Screwdriver

Pliers

Plunger (one for the toilet and another for the sink)

Plumbing tape

Utility knife

Caulking gun
Okay, let's get on with it.
Once you have everything you need at hand, it's easy to do the following simple repairs:
Leaky faucets

A leaky faucet is not just annoying—it's also extremely wasteful. Luckily, you can repair it on your own. Here's a good DIY guide. It provides easy-to-understand instructions on identifying your faucet type, your O-ring size, your handle style, and the parts you need for repairing your leaky faucet. 
Installing bathroom or kitchen faucets
If the issue is too big to fix, it might be easier and more practical to replace faucet altogether. Instructions should be included in the new kit you buy. 

Clogged/slow drains

All you need is a good clog remover to fix this problem. Try Powerplay Rapid Clog Remover by TruFusion—safe for sinks, showers, and tubs. This rapid-acting formulation releases clogs from grease, food, hair, and organic matter within a couple of minutes. It contains twice the concentrate you will find in leading bleach products, so you can be sure it will free your slow-flowing drain instantly. 
Running toilets
A faulty floater switch or stop valve is usually the cause of this problem. Try jiggling the handle. This will temporarily stop a running toilet until you have the time and replacement parts you need to fix it permanently. Danco toilet repair kits are some of the best replacement parts you can buy. You can purchase individual parts or assemblies. 

Replacing sink sprayers
Anybody can do this super-easy DIY plumbing job. To start, determine what type of kitchen sink sprayer you have. Check if it has a detachable hose. Older sprayers can typically be replaced without needing to replace the hose. If there's a tear, though, you probably need to buy a new hose along with a new nozzle. You're also going to need a plumbing thread if you have to swap the hose. The new kit should have instructions.

Frozen pipes 
Frozen pipes that burst can cause serious water damage that will cost thousands of dollars to fix. The key is to prevent frozen pipes, to begin with and know how to quickly repair them if they still end up freezing.

It's a good idea to replace plumbing fixtures and pipes that are already in poor condition before winter rolls along. Keep unheated pipes warm with heat tape and/or extra insulation layers. During cold winter days of below-freezing temperatures, keep your faucets dripping.

If your pipes still freeze despite your best efforts, don't panic—you can still thaw them. Apply heat to the pipe using a heat cable, heat tape, a heat lamp, a space heater, an electric heating pad, or even a hair-dryer. Don't use open-flame devices like propane or kerosene heaters, charcoal stoves or blowtorches. Remove any flammable materials in the area before you start working, just to be safe. 
Low water pressure
This is likely caused by a clogged aerator, which you can easily replace. Danco offers a wide range of water-saving, low-flow, aerator adaptors, and laminar aerators so you will surely find what you need. You might also need an aerator key to remove the old one if it's clogged with mineral deposits. You can't go wrong with Danco's multi-use faucet aerator key tool.
Replacing a toilet flush handle
Whether your toilet handle is rusted, pocked, broken, or just plain ugly, you can easily replace it with Danco's universal handles. Danco also makes specific replacement parts for leading brands like American Standard, Eljer, and Mansfield, among others. 
While it's possible to rebuild an old valve, it's often more practical to replace it with a modern quarter-turn ball valve. These newer units rarely leak, lock up, or wear out and they are also easy to install.
Leaky pipes
Did you know that American households waste an average of 10,000 gallons of water annually because of leaky pipes? Fixing leaks and installing more efficient fixtures will allow you to save money while helping save the planet. There are many online how-to guides showing how to fix a simple leaky pipe.