Category:
News
Date:

May 15, 2023
Summer DIY Kitchen Projects
With summer just around the corner, it's time to start thinking about refreshing your kitchen for the season. Luckily, you don't need to spend a fortune to give your kitchen a new look and improved functionality. Here are three simple early summer Do-It-Yourself kitchen projects to transform your kitchen on a budget.
Upgrade your sink faucet handles: Your kitchen sink is one of the most used features in your kitchen, so why not make it more stylish and functional? Upgrading your faucet handles is an easy way to give your sink a fresh look without having to replace the entire faucet. Look for handles that match your existing hardware and complement your kitchen's decor. DIY plumbing is a breeze, and you can easily install the new handles yourself with basic tools, making this a simple and affordable project.
The Danco Faucet Cross-Arm Handles is a stylish and functional replacement handle for your sink faucet. Made from durable plastic, this cross-shaped handle provides a comfortable grip for turning your faucet on and off. Its white color gives a clean and classic look that complements any bathroom or kitchen decor. Installing the Danco Faucet Cross-Arm Handle is super easy. It has an adapter that fits most faucet fixtures and can be easily attached using a screwdriver. The adapter also allows for easy height adjustment, ensuring that the handle is at the perfect height for your comfort. This type of faucet handle is a great replacement for traditional knob handles, providing an upgraded look and feel to your home.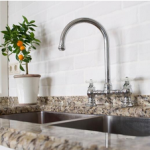 The Cross-Arm Faucet Handles are available in a single and 2-Pack in porcelain white and many other sleek finishes on Amazon! Leaky kitchen faucet? No problem! We've got the parts for that too!
Install a garbage disposal accessory: If you have a garbage disposal, adding a compact and budget-friendly accessory can improve its functionality and make your life easier. Look for accessories that can easily be installed without the need for professional help that will make your kitchen more functional and save you on plumbing costs in the long term.
The Danco Garbage Disposal Splash Guard is the perfect accessory for your kitchen sink and an easy DIY project to install. This splash guard is designed to fit most standard garbage disposals and can be easily installed in just a few minutes with no tools required. The splash guard serves an important function by preventing food scraps and debris from splashing out of the disposal unit and onto your kitchen countertops. This can be particularly helpful when you're washing dishes or preparing food, as it keeps your workspace clean.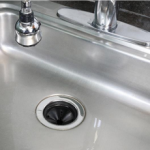 The Disposal Splash Guard is also incredibly easy to clean and maintain. Simply wipe it down with a damp cloth to remove any food particles or residue, and it's as good as new! Upgrade now and check the Disposal Splash guard out at Wal-Mart, the Home Depot, and Amazon.
If you're looking to connect your dishwasher to your garbage disposal unit, you will need to add a Dishwasher Garbage Disposal Connector. Luckily, this is a straightforward process that can be completed with Danco Plumbing repair parts by a single person without special tools.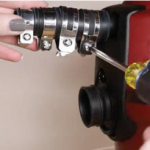 T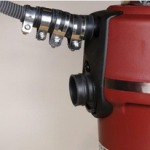 he Danco Dishwasher Garbage Disposal Connector, available now at Wal-Mart, is a high-quality and adjustable connector that ensures a secure and leak-free connection between your dishwasher and garbage disposal unit. The Dishwasher Disposal Connector prevents backflow from the disposal unit into the dishwasher, improves the efficiency of the dishwasher, and is easy to install with no special tools required. This connector is an essential accessory for any busy homeowner looking to streamline their kitchen's plumbing.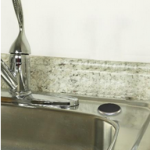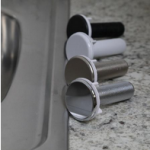 Add a sleek new sink hole cover: A Sink Hole Cover may seem like a small detail, but it can make a big difference in the look and functionality of your kitchen sink. A kitchen sink hole cover is used to cover unsightly holes in the sink when the spray head or soap dispenser is not in use and collects debris. It is a good idea to install a sink hole cover, to prevent water from splashing out of the unused hole, which can be a common issue with an empty soap dispenser or side spray. It also eliminates the need to constantly refill a soap dispenser, freeing up valuable counter space. Check out Danco's series of sink hole covers now at Wal-Mart, the Home Depot, and on Amazon!
These pre-summer DIY kitchen projects and easy-to-do Kitchen faucet repair will instantly transform your kitchen into a fresh and functional space! Upgrading your sink faucet handles, adding a functional disposal accessory, and installing a sink hole cover are a small list of project ideas that you can do this summer on a budget. With a tad bit of time and effort, you can give your kitchen the ultimate summer refresh!