Category:
News
Date:

February 1, 2023
Valentine's Day DIY Projects
The best gifts are ultimately the ones that are full of thought and genuine love straight from the heart and what better day to show some heart than on Valentine's Day. Also, not all gifts have to cost a million dollars. Homemade DIY home projects make thoughtful gifts for your loved ones!

Give your kitchen an instant refresh with a fresh coat of paint. Painting the walls or cabinets can be the perfect gift or even date night activity! Make the painting process easier with the right prep tools. The Wipe.It Squeegee Paint Rim Cleaner minimizes waste and controls messes around the rim of a paint can. Wipe. It also includes an integrated magnet to hold the paint brush over the paint can to preserve the paint. This allows the paint to safely drip back into the can instead of the floor. The Wipe.It Squeegee Paint Rim Cleaner is available on Amazon.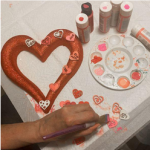 Avoid paint spills or splatter on carpet, hardwood floors, countertops or furniture with Protect-It Project Pads. These pads are tear resistant and leak proof pads protect surfaces from spills during projects! The Protect-It Project Pads 10-Pack are available on Amazon!
Nothing shows more love than new faucet fixtures! Plus, DIY plumbing upgrades, like sink faucet fixtures, are fairly simple and more in-expensive than replacing the entire sink faucet system. Add a quaint, vintage look to your kitchen with these Cross-Arm Faucet Handles! Available in Porcelain, Brushed Nickel, and Chrome finishes, these handles have a cross-style design with a custom finish, metal trim, and interchangeable button including hot, cold and arrows.
Check out the Cross-Arm Faucet Handles on Amazon!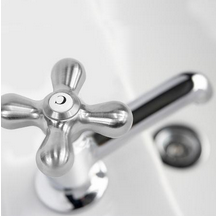 Help your partner achieve a minimalistic look in the kitchen with a stylish soap dispenser. Our series of soap dispensers fit a 1-gallon soap or 12 oz. lotion bottle discreetly underneath the sink to minimize refills and removes need for unattractive plastic soap bottles on the kitchen counter. Our dispensers can also be filled from the top if used with the included under counter plastic soap container. The longer shank fits most countertops, including granite and marble. Available in a multitude of finishes like Brushed Nickel, Chrome, Oil Rubbed Bronze, and White and nozzle styles including straight and curved. A soap dispenser also pairs nicely with the Cross-Arm Handles!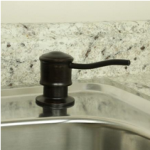 Straight Nozzle Soap Dispensers
Curved Nozzle Soap Dispensers
Plumbing replacement parts are a simple and cost effective way to spread the love this Valentine's Day! Gift yourself, your partner and your home with these Danco plumbing repair home staples!