Category:
News
Date:

November 1, 2023
Holiday Kitchen Must-Have Tool Essentials
As the holiday season draws near and the demands on your kitchen increase, ensuring your plumbing remains trouble-free becomes essential. From preventing clogs to fixing common plumbing repair issues, having the right tools and accessories on hand can save you from headaches and costly repairs. In this blog, we'll introduce you to a range of must-have kitchen accessories that will help you prevent plumbing problems during the busy holiday season and beyond.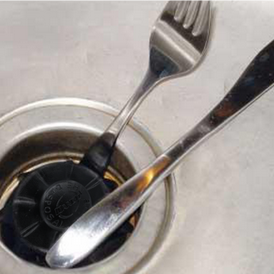 Prevent Clogged Drains 
The Danco Disposal Genie I Strainer is an ingenious accessory that safeguards your garbage disposal against costly damages. This starfish-like strainer sits just below the sink flange, allowing food and water to flow freely into the disposal while preventing splashing and non-food items from slipping down the drain. Its built-in silicon scraper ensures leftovers are efficiently pushed into the disposal, while its universal fit makes it compatible with most standard sink openings. This durable, dishwasher-safe tool is a must-have for maintaining a clog-free holiday kitchen. You can find the Disposal Genie I now at Wal-Mart or Amazon.
Solve Dishwasher Connection Woes
During the holiday season, your dishwasher is likely to work overtime. The Danco Dishwasher Connector available now at Walmart  and the Home Depot, offers a fast and hassle-free way to connect your dishwasher drain to the garbage disposal unit. With adjustable clamps and flexible tubing, this connector fits most disposal brands and dishwasher hoses, ensuring a tight seal to prevent leaks.
Avoid Accidental Disposal Damage
The Danco Garbage Disposal Stopper is a simple yet effective Plumbing parts solution to prevent food and silverware from accidentally falling into the disposal. Designed specifically for InSinkErator garbage disposals, this durable plastic stopper covers the opening and provides an added layer of protection, keeping your disposal functioning smoothly throughout the holiday season. Order the Garbage Disposal Stopper now on Amazon.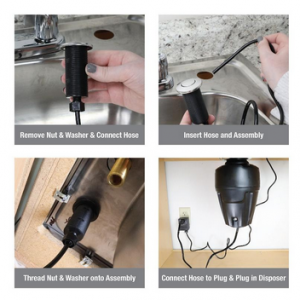 Effortless Garbage Disposal Control
With the Garbage Disposal Air Switch, controlling your kitchen disposer becomes a breeze. This deck-mount air switch is a modern alternative to traditional wall-mounted switches, perfect for kitchen islands where wall switches are impractical. By using air pressure instead of electricity, it reduces the risk of electric shock. A simple push activates your disposal, and another push turns it off, making it an ideal accessory for a hassle-free holiday kitchen. Make the upgrade today and pick up at the Home Depot or Amazon.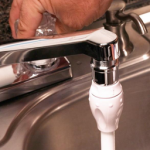 Enhance Faucet Efficiency
The Easy Spray Faucet Sprayer makes everyday tasks easier during the holiday season. With its 3-foot hose and quick-connect aerator adapter, you can easily switch between stream and spray patterns. Use it for washing dishes, bathing pets, or cleaning veggies. It's on/off toggle switch offers control over water flow, and the detachable hose provides extra reach when needed. The Easy Spray is available at the Home Depot, Lowe's, or Amazon!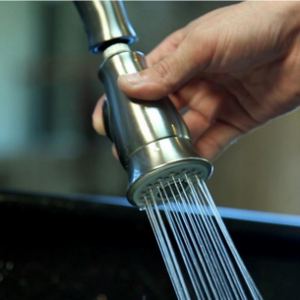 Faucet Maintenance and Upgrades 
Update the look of your kitchen with the Danco Smart Spray Head and Cross-Arm Faucet Handles. Our Smart Spray Head, now at Wal-Mart and the Home Depot, offers a versatile stream and spray pattern and pull-down mechanism, while the lever handle gives your faucet a modern touch. Both products are durable and easy to install, making them excellent choices for refreshing your kitchen's appearance for the holiday season. Check out the Cross-Arm Faucet Sink Handles now at head at Wal-Mart and the Home Depot!
Save water without compromising pressure with the 1.0 GPM Faucet Aerator. Featuring Cyclone Technology and is WaterSense tested, this aerator reduces water consumption by up to 55% compared to standard aerators. Contribute to a more sustainable holiday season while enjoying optimal water performance by picking up this sink aerator now at Wal-Mart!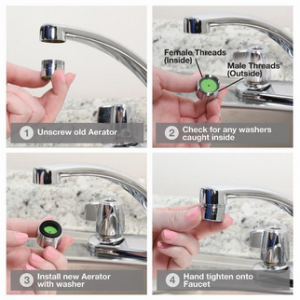 Cleaning or replacing aerators can be a hassle, but the Multi-Use Faucet Aerator Key Tool simplifies the process. Compatible with various faucet brands, this non-abrasive tool features an aerator wrench and four sizes of keys for easy installation and removal. Keep your faucets running smoothly throughout the holiday season with this handy tool! Buy now at the Home Depot and on Amazon.
This holiday season, ensure your kitchen remains hassle-free by incorporating these essential Danco kitchen Plumbing replacement parts and accessories. From preventing clogs to enhancing faucet functionality, these tools will help you enjoy a trouble-free holiday season filled with joyous celebrations and delicious meals. Don't let plumbing problems dampen your festivities – equip your kitchen with the right accessories and enjoy a smooth, stress-free holiday experience.