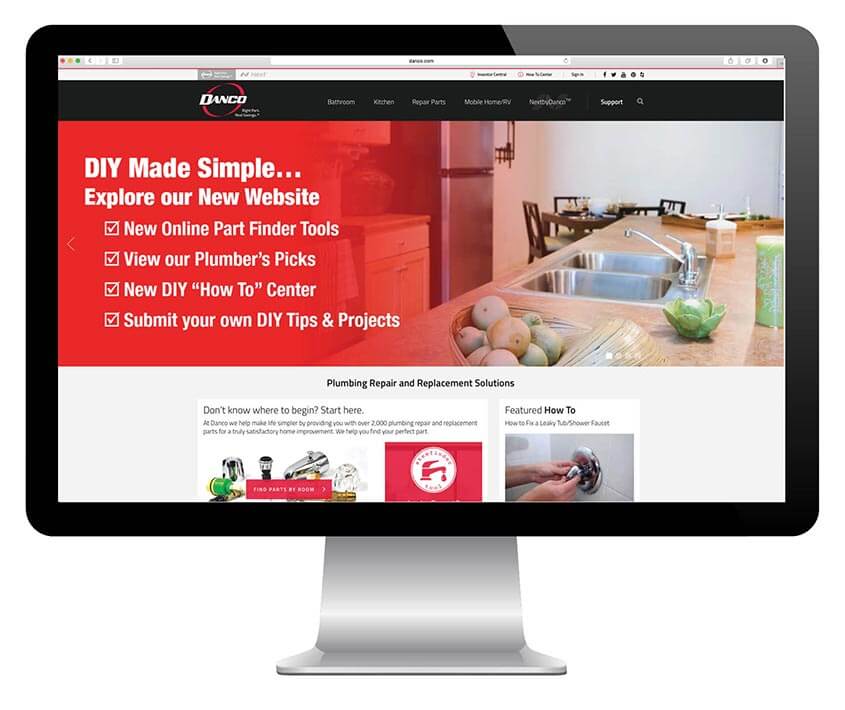 Category:
News
Date:

July 1, 2016
Danco Has a New Look!
Continuous innovation is a foundational ethos for us here at Danco. By now you know that we are always striving to design better plumbing and repair parts to provide to our customers.
What you may not know is that drive for innovation goes beyond just plumbing supplies – it extends to our website as well! We recently overhauled our website here at Danco.com, adding a slew of fancy new features to improve your experience as a browser, customer and DIY plumbing enthusiast!
Let's take a look at what's new:
Updated Visuals – The first thing you'll notice is a sleek new visual design. Our pages now fill the full width of the browser, and across the site you'll see more photos, more colors, and an overall cleaner, more visually appealing design.
Reorganized Product Categories – We've re-categorized our products from "Tub & Shower, Sink Parts, Faucet Parts and Toilet Parts" into separate Bathroom, Kitchen and Repair Parts sections to make it easier for you to find exactly what you need.
New Product Categories – We've added a whole new section of parts: Mobile Home/RV! Separated by Bathroom, Kitchen and HVAC & Repair parts.
Special Products – The Water Saving parts selection will help you make your home as eco-friendly as possible, while our Plumber's Picks shows you a curated selection of our top-selling items and customer favorites.
Next by Danco – Another new addition to the section-bar displayed at the top of each web-page is our innovative line of plumbing and repair parts: Next by Danco. All of these parts are designed to not only repair plumbing problems but to also be time-saving, long-lasting and easy to install. Many will also save you water and money as well!
Find Parts – We revamped our Solutions Search into the new "Find Parts" feature, designed to help you find the exact part you need for any project. Search by room (Bathroom, Kitchen and Mobile Home/RV), category (tub, toilet, sink, faucet, etc.), what the issue is (e.g. Is water leaking or dripping from your Faucet or Handle?), and what exact part you're looking for.
Stem-Finder – To make it easier than ever to fix that pesky leaky faucet, we've added the Stem-Finder section. Start by identifying your faucet type (sink or tub/shower, with 1, 2 or 3 handles), brand. Then follow a nifty, multi-part process including onscreen calibrations to find the exact replacement stem you need – all without leaving your desk.
Inventor Central – In our mission to foster innovation and inspire DIY plumbing, we now offer advice to aspiring inventors! If you have an invention, and you're looking for help/advice with refining your product, or with marketing, packaging, manufacturing or finances, we can help. We'll provide you with an Inventor Advocate to help you get your product to market, whether or not you have a prototype or pending patent, with no upfront money or commitment required.
Though our main mission surrounds providing you with top-quality, innovative plumbing supplies, we also care about your experience on our website. We hope you enjoy all these new features we have to offer!