Category:
News
Date:

December 1, 2022
Danco Holiday Gift Guide
The holidays have arrived, and now is the time to spread the holiday cheer when you're looking for the perfect gift for your friends and family. We have rounded up some Danco top sellers that could make the perfect gift for homeowners, renters, plumbers, and DIYers!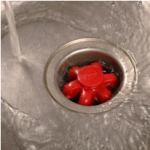 Disposal Genie II
One show-stopping Danco best-seller is our Disposal Genie II! The Disposal Genie II's smart, innovative features make it a great stocking stuffer or holiday gift. Its innovative redesign is even easier to use and gives an overall seamless user experience. The large, comfortable knob turns in both directions to enhance utility.
By turning the Disposal Genie II clockwise, homeowners can fill their kitchen sink with water to allow you to soak dishes. The counterclockwise turn will enable Disposal Genie II to become a strainer, allowing water and food particles to flow freely down the drain. At the same time, its smart design prevents your valuables from slipping down the drain. Not to mention it comes in a variety of fun colors, such as a festive red! The Disposal Genie II can be ordered on Amazon or at The Home Depot.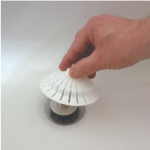 Hair Catchers and Bathtub Strainers
As the New Year approaches, you may be in the stages of decluttering and cleaning for a smooth transition into the new year. This includes cleaning out drains from debris, hair, and other forms of build-up that are likely to cause clogs. Hair Catchers are an inexpensive, thoughtful gift as it helps keep the home functional and offers protection against clogged drains.
Hair catchers can be placed in the bathtub, shower, and sinks to prevent hair, soap, debris, and even small valuables from slipping down the drain. At Danco, we carry hair catchers for every room in the house!
Here are just a few of their top sellers:
For the bathtub, a 2-in-1 bathtub hair catcher and stopper is a wise choice, particularly Danco's patent-pending stopper with a durable silicone basket. It is an innovative strainer and stopper that discreetly and easily catches hair to minimize clogged and slow drains. For something simpler, there's the Bathtub Hair Catcher with a suction cup and the Hair Catcher Bathroom Tub Strainer, which is easy to clean and strays away from odor.
For small pet owners or homeowners shaving in the sink, the Danco Lavatory Sink Hair Catcher will effectively cling to the stopper and catch any hairs. It is easy to install and clean, and it fits most standard sink pop-up stoppers that are 1 to ½ inches in size.
For bathroom showers, use the Hair Catcher Shower Drain Cover. It is available in chrome or white and comes with replacement baskets in threes per pack. It keeps your drain flowing freely as it catches foreign objects.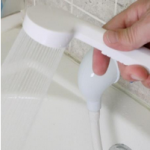 Versa Spray 
Nothing is better than having the convenience of a shower spray in your bathtub, especially for someone with small children or pets! The Versa Spray is a portable shower sprayer designed to attach to bathtub faucets, quickly transforming into a 2.2 GPM water flow. The 42-inch rubber hose length is ideal when rinsing off, bathing children, washing pets, and even cleaning tubs. The Versa Spray is an inexpensive way to upgrade your bathtub easily and offers quick & easy installation. The Versa Spray is available on Amazon, at The Home Depot, and at Lowes.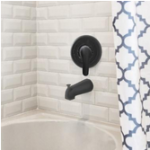 Matte Black Bath Accessories
Earlier this year, Danco rolled out our lines of Matte Black finished products, including the Matte Black Trim Kit for Moen and Matte Black Trim Kit for Delta style faucets! If a friend or family is looking to upgrade their bathtub trim, this kit is great as it offers a modern, sleek look that is easy to install without the assistance of a professional!
The Trim Kit includes adapters to fit both Moentrol and Posi-Temp cartridge-style faucets. The kit also includes your choice of design between a clear acrylic handle and a matte black finished metal handle. The plastic construction provides rust resistance and durability, while the stainless steel material provides reliable performance.
Pair this sleek Trim Kit with the Diverter Tub Spout in Matte Black for an even more timeless look! Surprise your loved one with the gift of elegance in Matte Black bath accessories for the holidays!
Diverter Tub Spout in Matte Black is available on Amazon and the Home Depot.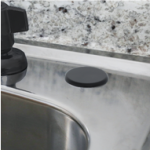 Sink Hole Cover in Matte Black
Matte Black is quickly becoming the finish of choice in hardware, faucets, and other fixtures such as drain strainers, shower heads, and even sink hole covers. The Danco Sink Hole Cover in Matte Black covers unsightly holes in the sink in place of absent side sprayer or soap dispenser.
The sink hole plug features a 3-inch threaded shank design and a 1-3/4 inch O.D. flange cover that requires no installation tools; only silicone caulk is needed to create a watertight seal. The design of this faucet hole cover fits most standard size kitchen sink holes. The stylish finish will complement your existing fixtures, and the durable plastic construction is resistant to rust, providing a long last performance.
The 1-3/4 in. Sink Hole Cover in Matte Black is available on Amazon, The Home Depot, and Lowes.
While looking for the perfect gift for your friends and family or writing your wish list, use our Danco Holiday Guide to steer you in the right direction!