Category:
News
Date:

August 1, 2023
Choosing the Perfect Danco Soap Dispenser for Your Home
Soap dispensers are an essential part of any well-designed and functional bathroom or kitchen. Not only do these dispensers provide convenience, but also add a touch of elegance to your space. Plus, it's a fantastic DIY plumbing project for budget-conscious individuals who want to refresh their home! Our range of soap dispensers combine innovative design, impeccable finishes, and versatile types. In this blog post, we will explore the right soap dispensers for your home, highlighting their unique features, stunning finishes, and suitable types to help you determine which soap dispenser is best for you!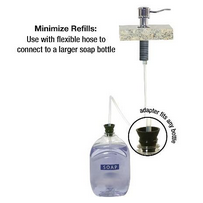 Universal Soap Dispenser with Curved Nozzle: The Universal Soap Dispenser with Curved Nozzle is an excellent choice for those seeking a sleek and modern design. Its curved nozzle adds a touch of sophistication, while the finish offers durability, resistance to tarnish, and corrosion. This soap dispenser includes an attachable bottle that holds up to 12 ounces of liquid soap, making it perfect for everyday household use. Its universal design ensures easy installation and compatibility with most sink configurations, making it a seamless addition to your bathroom or kitchen. Best of all, this soap dispenser also comes with a 48 in hose that will fit a 1-gallon soap bottle; it fits discreetly underneath the cabinet to minimize refills. This soap dispenser is available at the Home Depot, Lowe's, and Amazon.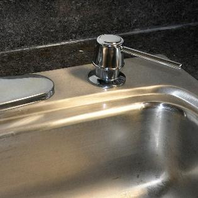 Universal Soap Dispenser with Straight Nozzle: If simplicity and versatility are your preferences, the Universal Soap Dispenser with Straight Nozzle is the perfect choice. Its timeless design and endless finishes effortlessly blend with any bathroom or kitchen setting. This soap dispenser kit comes with a 48 in. hose and an attachable bottle with the capacity to hold 12 ounces; this dispenser ensures you have an ample supply of liquid soap. Its universal compatibility with most sink configurations makes installation quick and hassle-free. This soap dispenser is at the Home Depot, Wal-Mart, and on Amazon.
How to Install a Soap Dispenser: Soap Dispenser installation is a quick and easy DIY project, requiring only a few basic tools.
Start by removing the cap from your sink's soap dispenser hole, and cleaning the area thoroughly.
Next, insert the soap dispenser into the hole, and secure it in place with the mounting nut provided.
Finally, attach the soap dispenser bottle to the dispenser pump, and fill it with your favorite soap or lotion.
A soap dispenser offers the perfect combination of functionality, design, and affordability for your home. Whether you prefer a curved or straight nozzle, there are many options to appeal to your preferences! Plumbing repair or replacement, like installation of a soap dispenser, is a simple DIY project that can revitalize your bathroom or kitchen without breaking the bank. Embrace the opportunity to elevate your home's aesthetic with unique Danco Plumbing replacement parts while enjoying the convenience of a soap dispenser!