Category:
News
Date:

May 1, 2023
Tips to Revolutionizing Your Garbage Disposal
Revamping your garbage disposal might appear overwhelming, but with Danco garbage disposal products, it can be a stress-free and cost-effective way to make your kitchen more efficient and attractive. In this blog, we provide practical tips on how to improve your garbage disposal with Danco replacement parts to repair it affordably and quickly.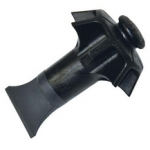 Tip 1: Protect Your Garbage Disposal from Food and Waste Using the Disposal Genie I
Fan Favorite, Disposal Genie I prevents food particles from causing clogs in your garbage disposal. Before turning on the disposal and running the water, place it inside your disposal unit. This barrier between your disposal and unwanted waste ensures your unit stays clean and hygienic. You can shop the famous Disposal Genie at Wal-Mart and Amazon!
Tip 2: Prevent Damage to Your Disposal, Dishes, and Glassware 
The Danco Garbage Disposal Stopper sits flush in the disposal and creates a seal that prevents debris from escaping. This stopper guarantees that your dishes and glassware are protected from damage caused by flying debris, simplifying clean-up after meals.
Check our new Disposal Stopper in Black on Amazon, Lowe's, and the Home Depot.
Tip 3: Repair Your Garbage Disposal Quickly and Affordably 
The Disposal Repair Kit has everything you need to repair your existing garbage disposal or connect a tailpiece to your new disposal. Whether you have a broken part or a leak, this Danco plumbing repair kit provides a quick and cost-effective solution. The Disposal Repair Kit is available on Amazon, Lowe's, and the Home Depot.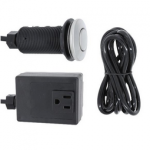 Tip 4: Install a Convenient Air Switch 
The Danco Garbage Disposal Air Switch is a convenient alternative to traditional wall-mount light switches. This switch allows you to turn your disposal on and off with ease. With a deck-mount design that easily mounts to your sink or countertop, it is perfect for a kitchen island. It also works with most major garbage disposal brands, including the InSinkErator garbage disposal units. Get your Air Switch now on Amazon, Lowe's, and the Home Depot!
The key to finding the ultimate garbage disposal solutions begins with these tips! Following these practical tips in conjunction with these garbage disposal accessories, you can revamp your garbage disposal and enjoy a more efficient, hygienic, and attractive kitchen. Whether you need to protect your disposal from unwanted waste, prevent damage to your dishes, or repair your disposal affordably and quickly, Danco plumbing parts provide the home solutions you need to get the job done right!