Category:
News
Date:

October 1, 2023
Freshen Up Your Bathtub – Easy Trim Kit Installation
Breathe new life into your bathroom and give your bathtub the ultimate refresh. Our Bathtub and Shower Trim Kit is the key to a simple yet stylish DIY plumbing transformation. Installing a bathtub trim kit is a cost-effective and uncomplicated way to not only refresh your bathroom's appearance but also enhance your bathtub's functionality.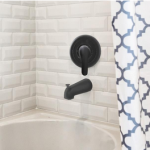 The Bathtub and Shower Trim Kit is designed for Moen and Delta Faucets in a multitude of sleek finishes like Matte Black, Chrome, Brushed Nickel, and Oil Rubbed Bronze. The sleek, contemporary finishes of the Danco Trim Kit add a touch of modern elegance to your bathroom, elevating its overall appeal. This versatile finish effortlessly complements any home design style, making it the perfect choice for those seeking a sophisticated upgrade.
This Trim Kit series also optimizes water flow. Over time, mineral deposits and sediment can build up in your bathtub's faucet, causing water flow and pressure issues. By replacing worn-out components with the trim kit, you'll ensure an efficient and enjoyable bathing experience.
What's truly remarkable is that installing the Danco Tub/Shower Trim Kit is a breeze, and you don't need extensive plumbing knowledge to get the job done. With easy-to-follow steps and clear instructions, this DIY-friendly plumbing solutions project is something anyone can confidently undertake. The trim kit is specifically designed to fit standard bathtub fixtures, simplifying the installation process even further.
Enhance the sleek look even further with a matching tub spout! The Diverter Tub Spout,  pair wells with the Trim Kit in identical striking matte black finishes. This tub spout is ideal for replacing and updating your worn-out, non-functioning tub spout and the classic design will give a fresh update to your bathtub. Find it now at major retailers: Wal-Mart, the Home Depot, Lowe's, and Amazon.
For easy to follow download the BILT 3D App available in the App and Google Play Stores for guided directions and step-by-step self-paced instructions to help you finish your install quickly & efficiently.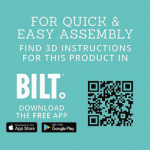 Discover the potential of your bathtub with the Danco Tub/Shower Trim Kit and transform your bathroom into a sanctuary of style and function. Upgrade your bathtub today with this sleek and stylish trim kit, and elevate your bathing experience to new heights. With its easy installation, modern finishes, and enhanced functionality, the Danco Bathtub and Shower Trim Kit is the ultimate choice for a bathroom upgrade. So what are you waiting for? Easy bathtub upgrades are steps away with bold trim kit choice! You can find the plumbing repair Trim Kit series at the Home Depot, Lowe's, or Amazon.
Where to Find the Danco Tub/Shower Trim Kit: