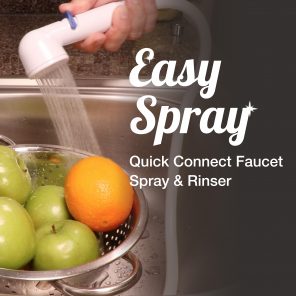 Category:
News
Date:

July 9, 2019
Press Release: Danco's Bathroom and Kitchen Sink Sprayer Replacement Remains a Best Seller
The Danco Easy Spray Quick Connect Faucet Spray and Rinser continues to be a best seller in its category. The innovative multipurpose product can be used as a bathroom and kitchen sink sprayer replacement—perfect for washing dishes, vegetables, and even pets and babies.
"What makes it very popular is its versatility and user-friendliness. It connects to any faucet. We even provide clear, easy-to-follow instructions complete with pictures, so anyone can install it and use it right away," said Gina Brooks, eCommerce Manager for Danco. Read more.